ORANGE COUNTY ENGAGEMENT PHOTOGRAPHY
I am an Orange County photographer specializing in engagement photos. I always recommend and E-session before your big day. Some of the benefits include getting to know your photographer, beautiful portraits of you and your fiance, but most importantly documenting this special time in your life.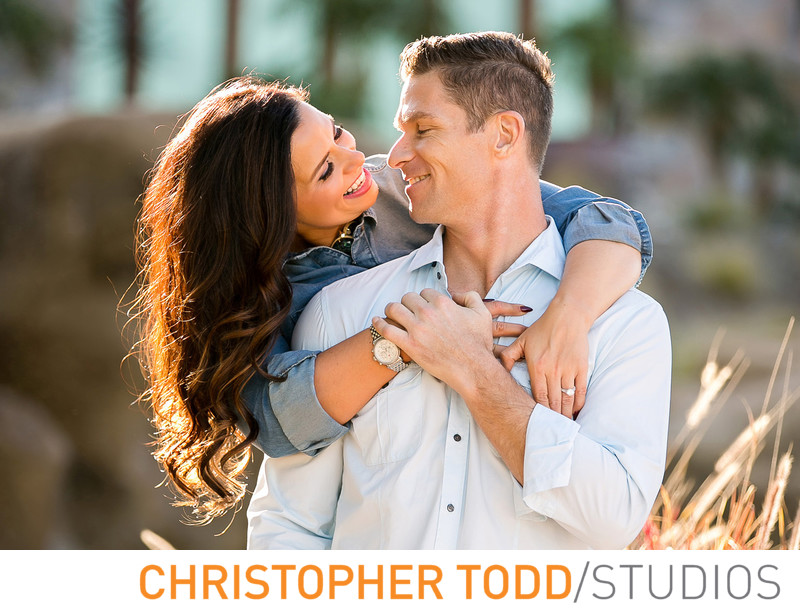 What are engagement portraits
Engagement portraits are simply portraits with an engaged couple. Usually taken shortly after their engagement or a couple months before the wedding day. Like a regular portrait session we focus on the connection between the couple. Showing their love with candid and traditional photos. We have many suggestions for locations in Orange County and Los Angeles for your perfect engagement photos. We also love to have couples come into our Orange County studio for an engagement session. This is the beginning of your legacy together and it is an important time to photograph those moments.
Why are engagement photos important?
If you have chosen me to be
your photographer
thank you. I am are truly honored and want to take the best photos of you as I can. One way we accomplish this is by building trust with you.
We want to eliminate doubts that you have in front of the camera.
Will I look good?
Did you photograph my best side?
Don't make my nose look too big.
I don't want my arms to look fat.
These are all doubts that I have heard from many couples. I know one way to build trust and make couples feel confident in front of the camera is to experience the photographer in action before the wedding.
Actions beat words in my book. Nothing will make you trust my photographic expertise more than great results. When I walk into your dressing room on your wedding day and meet your friends and family, my goal is to become an insider as quickly as possible. The fast lane to being an insider is amazing engagement pics.
When I become an insider your friends and family relax because they are confident I will deliver images from the wedding that capture personality, and how it felt to celebrate with you in those moments.

FACT: Insiders get more opportunities to make photographs that show love, personality, family, and connection.

When is the last time you had your photos taken by a photographer?
Maybe it was the wedding you were in last year, or at your parents 50th wedding anniversary party. Quite possible you haven't had professional pictures taken since your high school senior picture. Now you are engaged to be married and in a few short months you will be in front of the camera. All eyes on you. No pressure. LOL
We are celebrating your love story and it begins with your engagement.
Having an engagement session will be the first time you and your fiance will be in front of the camera together with me. It is a great way to practice and get to know your photographer. Kinda like how you have a wedding rehearsal.
Let's connect and not just on Facebook or Instagram
The connection that you will gain with your wedding vendor will be organic and the results will be beautiful wedding photos.
Engagement sessions allow the photographer to get to know the couple in an organic setting and this allows us to take photos that you will love and shows who you really are.
Engagement sessions build confidence in the couple
Most likely you are not a model nor is your fiancé. It may take 15-20 minutes just to feel comfortable in front of the camera. This is totally normal and to be expected. I will be directing the two of you and helping you pose.
But imagine if you don't do your engagement session with your wedding photographer. On the day of the wedding you might only have 25 minutes for your bridal session together and 20 of those precious minutes are you two just getting comfortable.
Maybe it takes my special techniques to make you laugh, smile and look natural and at ease. But I would much rather figure that all out at the engagement session where we have time then at your wedding day when moments are quick and I have to be ready for anything.
After you see your engagement pictures you will see how amazing you look in your photos and know that your wedding day pics will be even better and you will look awesome.
Our job is to put couples at ease
We all know weddings can be stressful. From choosing the right color flowers to renting tuxedos. Not to mention certain family members. But when you have worked with your wedding photographer before the wedding day you will eliminate the stress of being in front of the camera which will directly lead to you looking amazing in your wedding photos.
The photographer really gets to know what works for the two of you as individuals and as a couple.

It is most beneficial to photograph the couple before the wedding this allows us to get a feeling how you interact and connect.

Getting to know your photographer before your wedding
Seeing professional pictures of the two of you before your wedding can be a huge advantage for the success of your wedding images. You can communicate to your photographer certain angles you like or dislike and we can adjust the photography accordingly. Why wait till the wedding day when it will be too late.
You get to know your photographer really well during an engagement session. You will better understand my style of shooting and see me in action. This will create a beautiful bond between the three of us. On your wedding day you will feel so comfortable knowing you are in good hands.
As your photographer I will be taking mental notes throughout the session. These will be used to capture moments on the wedding day that are unique to just the two of you.

Lastly, it's awesome to have amazing engagement prints that show your love and personality. Most couples tell me all they have are iphone selfies to show for years of vacations and good times together.
Engagement Photography Tips
Have your hair and makeup done on the same day, that way you get to see how it will look in your photos before the wedding.
Fun, they are simply fun. It's your style your look, your love story being told in a relaxed environment, whether we photograph couples in our studio or at your favorite park.
Choosing a location that is meaningful to you is important, maybe it is where you got engaged or where your first date was.
What can I do with the pictures:
gifts to your parents
save the date cards
announcements
a coffee table album
prints to put up in your home
signature books for wedding guests to sign (most popular)
photo to display at your wedding reception
images for the newspaper announcement (parents love this)
We can answer any questions you have contact us today!
We schedule your engagement session & ordering session meeting approx 1-2 a weeks apart.
Engagement photography typically lasts 30min-2 hours.
You can have unlimited outfit changes.
We can visit more than one location with a little planning.
Style Guide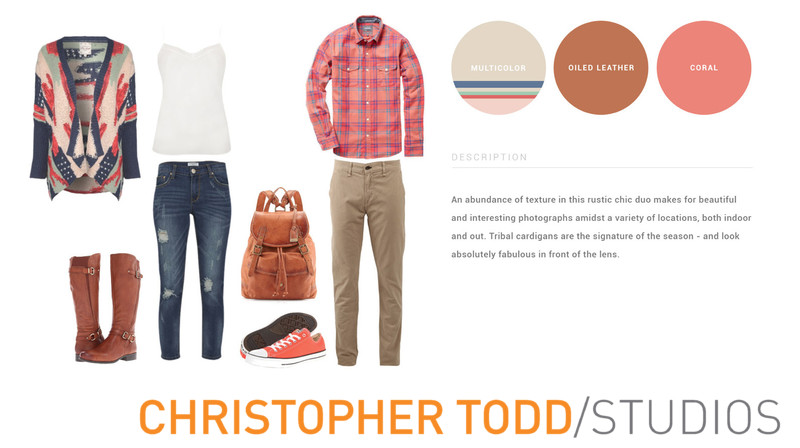 Get dressed up for your engagement photos. We offer all our couples a style guide so you can look your best. When you look and feel good it shows in your photos.
Our custom engagement portrait style guide is designed to give you ideas, and inspiration for planning the perfect engagement session. We include multiple outfits ideas ranging from very casual for beach portraits, to dressy, more professional looks, perfect for urban, or metropolitan locations such as
Disney concert hall
in downtown Los Angeles. We break down the guide into warm and cool tones to help couples planning an engagement session visualize the best color palette to use in their outfits relative to the portrait photography location.
Popular Products from Engagement Photography Sessions
Let your story be told with some unique wall art and albums. Featuring our most popular products. Be sure to visit our
Products Page
to see the best ways to show off your engagement photography.
Contact Christopher About Your Engagement Session Today
---
Copyright © 2019, Orange County Photographer Christopher TODD studios, 211 E. Columbine Ave, Ste D, Santa Ana, CA 92707, 949-771-9600, Privacy Policy