Wedding Photo Tips
We are passionate about our work, and always focused on results. These wedding tips will help you avoid 90% of the most common situations that cause havoc for your wedding photography.
Don't Rush
Have a Plan
Hair and Makeup Beware
Flowers Ready
Checklists are Good
Family Formals
Seeing Each Other Before the Ceremony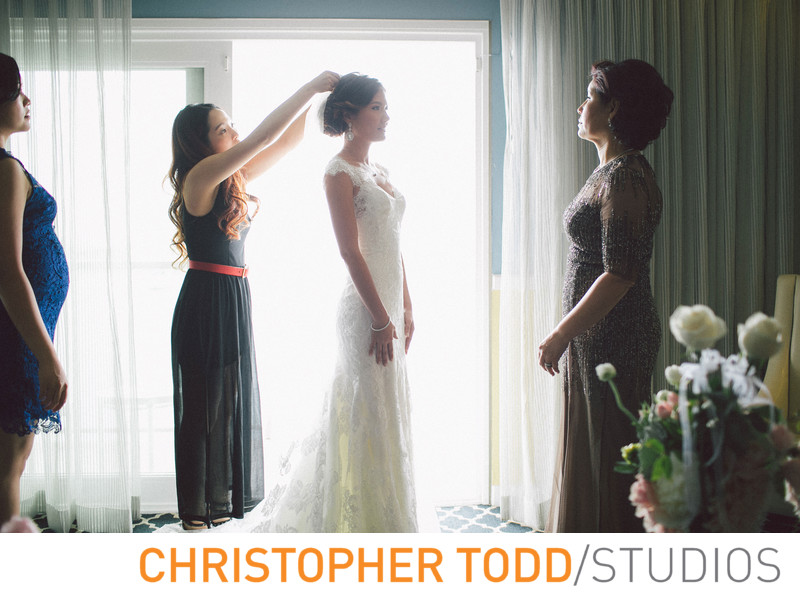 Clockwatcher be warned
We are totally used to being rushed on the wedding day. People often run behind schedule, putting the squeeze on our photography time. My number one tip for a successful wedding day shoot. Just relax and don't rush! It's hard to look your best when you are stressing out. If you are a clock watcher, leave your watch in the drawer. There are a couple "main offenders" that typically cause a wedding to run behind all day. I'll discuss those factors in tip 2 and 3.
You need to have some structure to have serendipity
A well conceived plan that includes a timeline with corresponding blocks of time scheduled for photography. Any photographer worth his/her salt should help craft a timeline that allots sufficient time for photography all desired aspects of the wedding day. A successful plan starts with an in-depth discussion with the bride & groom about their expectations for their wedding photographs. Once the photographer understands what his bride & groom want he/she can then plan an appropriate amount of time to make those goals reality. Another important factor is multiple locations, travel time, size of the family & bridal party. More people equals more time. So plan accordingly, and reap the rewards in amazing wedding photographs.
Get your do done early
Okay, where would we be without our gals and guys working the hair and makeup for your wedding? Probably in a bad place. I really love all you hair and makeup peeps out there, but Brides need to know, Hair and makeup make weddings late 90+% of the time. There, I said it. Going past having a great plan for photography on your wedding day, it's uber important to be on the same page with your amazing hair and makeup stylistas. To be fair, hair and makeup need to have a real understanding for how many heads and faces they need to make beautiful, and what time they need to be completely finished. THEN START AN HOUR EARLIER TO HAVE A LITTLE BUFFER TIME. WHAT…MORE THAN 5 BRIDESMAIDS than start 1.5 hours early.
Make sure the flowers arrive early
Flowers are detail that is easily overlooked. Most wedding coordinators are all over this one. But occasionally, I'll photograph a wedding without a coordinator, and this is when we as photographers need to make the brides aware of communicating with the florist to have the bridal bouquets, and boutonnieres ready and waiting on location for wedding portraits to begin. It's always a bummer to be ready for family portraits, with flowers delivered to the church because this important detail wasn't considered.
Well kind of
If you're a bride that is planning your own wedding adventure, or maybe have a friend or family member helping out on the day of the wedding. This is for you! First piece of advice, is hire a coordinator. A wedding coordinator will take away your pre-wedding stress of navigating the maze that we call a wedding. If that's just not in the budget, do yourself the favor of interviewing a couple professional wedding coordinators for "Day of Coordinator" services. A good wedding coordinator is worth their weight in Platinum. That said, if you choose to go at it alone, hit your local bookstore and start researching some guides out there. Make a checklist of things to remember for the wedding day, it is also a great idea to have a list of responsibilities for who is bringing what to where. For example, Katherine my maid of Honor is bringing the ring bearers pillow to the church. If you're not the listy type, once again consider hiring a coordinator.


Bring the chaos, or have a plan?
"Get ready, my family is totally crazy." I often hear from my brides/grooms. Organizing large family groups is not always an easy task. This soft skill of handling people can make or break a group's experience. It's important because when people like the photographer they have more fun, or feel more relaxed. Which equals better pictures. Unfortunately, the opposite is also true. When a stressed or inexperienced photographer guy steps up and starts yelling, and pointing at friends and family, the game has already been lost. The most important factor goes right back to TIP #2 HAVE A PLAN. Bye this, I mean the photographer knows exactly which photographs the bride and groom want. He/she doesn't waste time or energy moving people around without reason. The second most important factor is COMMUNICATION. For example, the bride HAS A PLAN, and MADE A CHECKLIST, and communicated the shot-list to her family and bridal party, at the rehearsal dinner. Maybe even gave family/friends a short timeline of when, and where they need to be for family photos. When the family knows where, and when. Their expectations are set by the bride/groom, all the photographer has to do is smile, carry out the plan, and rev up the energy to make some amazing images.
Let's calm the nervous Bride or Groom with an intimate first look.
We completely understand that you and the groom of your dreams might not be planning on seeing each other before the ceremony. However, the trend of brides and grooms having a "first look", or "reveal", is on the rise. Whether you're just not the traditional type, or just want to spend some quality time at your cocktail hour with your guests, there are some practical reasons to see each other before your wedding ceremony. WINTER WEDDINGS/SUNSET WEDDING CEREMONY. After the first weekend in November, through early March, the clocks slam forward an hour out here on the west coast. With the days getting much shorter it's important to design your wedding photography timeline with the sunset time in mind. When you elect to not see each other until after sunset we must use more flash to make your wedding images. Using flash is perfectly great, in fact we use flash often when lighting conditions call for it. However, The important thing to consider is the style of photograph you like. If you like the light airy, natural light look, then it's time to reconsider your plan. The same facts still apply for the SUNSET WEDDING CEREMONY. If your dream wedding includes a ceremony with the kiss as the sun dips below the horizon, then be sure to consider what style of picture you love the most, and use that information to put your timeline together.
Fill Out Our Connect Form To Get Started!
---
Copyright © 2019, Orange County Photographer Christopher TODD studios, 211 E. Columbine Ave, Ste D, Santa Ana, CA 92707, 949-771-9600, Privacy Policy