Wedding Photographer In Orange County
As a wedding photographer in Orange County, I consider myself lucky to have such an amazing backdrop to create images for my brides and grooms. Orange County is blessed with beautiful coastline with great spots for photography like Huntington Beach with its iconic pier and main street, Seal Beach with an old wooden pier, Newport Beach Harbor or natural back bay area. In south OC I love making portraits in Laguna Beach at spots like the Montage, or Crystal Cove State Beach. The OC also has many parks and open spaces for couples that prefer natural locations like Thomas Riley Wilderness Park in Ladera Ranch or Laguna Coast Wilderness Park. Orange County also has many options for Urban, Eclectic, or Architectural photo spots, such as The Lab and The Camp in Costa Mesa, and Segerstrom Center for the Arts with its sophisticated architecture.
In addition to wedding photography we also specialize in Family Portraits, Headshots for Business or Dating profiles, and Event Photography.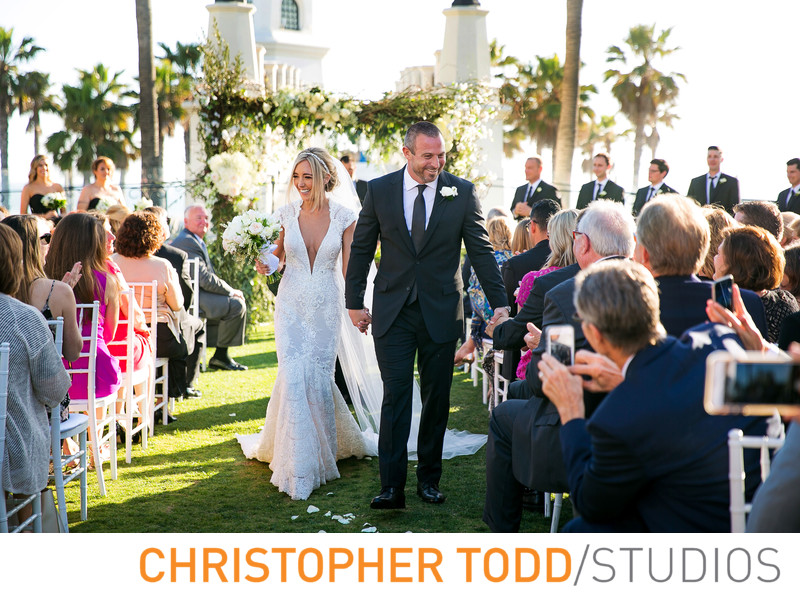 WHAT IS WEDDING PHOTOGRAPHY?
The act of creating photographs at a wedding. Modern wedding photography has changed much from your parents generation. The act of capturing photographs at a wedding celebration has evolved from static photos which were traditionally lit and heavily composed, to a more natural, candid style. One of the largest factors contributing to this change is camera technology. Despite the trend of wedding film photography the latest cameras are with rapidly evolving technology that is allowing photographers the opportunities to capture images not possible in the past. The rate of change is accelerating, making this an exciting time to be a digital photographer.
WEDDINGS ARE FUN
My clients often say I bring a positive and fun attitude to their weddings. I always strive to be professional, courteous, and positive while capturing photos at your wedding. Couples looking for amazing photos from their wedding day should contact us today. I am extremely passionate about the pictures I make. More importantly I want to deliver products that show your personality and live on for generations in you family. When I create albums and prints for your wall with candids, traditional, classic, and lifestyle photos of your wedding they will truly tell your story.


PHOTOGRAPHING WEDDINGS ARE FOR PROFESSIONALS
Orange County has over 5000 photographers and I know choosing the perfect one is a big decision. To be sure you choose the best photographer for your celebration, it is important to ask good questions when interviewing potential candidates for your photography. Many engaged couples have no idea what to ask me except how much does it cost. You can find this article I wrote about the best questions to ask your photographer.
We love photographing people, whether it's a marriage, elopement, or engagement session in Orange County or Los Angeles. We also travel all over the world to different destinations for our couples.
I offer full coverage on the day of the wedding, and Rehearsal dinner photography. We photograph South east Asian Weddings, fusion weddings,Catholic, Jewish, Muslim, Indian, Same sex weddings. Our specialty is making the bride and groom happy with heirloom photographs that they will love and cherish for generations and for future children to love and discover. We tell your story through our lens.
Before your wedding
We love to photograph couples during their engagement period. This is called an E-session. The "E" stands for engagement. E-sessions are popular with our engaged couples.
Most couples use the engagement photos from our session to make great wall art and custom photo albums to be displayed at their wedding reception, for all the guests to see.
WHAT PAST BRIDES SAY ABOUT MY PHOTOGRAPHS
One of our past Brides wrote:
"Chris and his lovely assistant, arrived at my hotel on our wedding day and hit the ground running. They worked their tails off all day and were really welcoming of any last minute photos I wanted. They had a great attitude all day and treated us and our guests so kindly. Chris has a gift when it comes to capturing emotions and it really shows in the photos we have seen so far. That was really important to me."
"Few things are as important during a wedding as a high quality, reliable, professional, trustworthy, and dependable photographer. Every single memory is reliant on the keen eye and artistry of the photo studio selected to capture one of the best moments in a couple's life together. If a picture is worth a thousand words, every image that Christopher Todd Studios captured is worth millions.
1. Artistry – It became readily apparent from the Studio's sample art work that we would be dealing with photographers who have "the eye" to capture the beauty of every moment. For us, it was not enough have a person simply "take a picture." Our wedding was a story that needed to be told in pictures for generations to come. Christopher Todd Studios and its team captured the essence of the evening by telling a story that will bring smiles, laughter, and joy for many years.
2. Professionalism – It was imperative that our photographer maintain the highest degree of professionalism before, during, and after the festivities. From the onset, Christopher Todd Studios provided us with a degree of customer service unsurpassed in the industry. During the wedding celebration, Christopher Todd Studios' photographers made our guests feel welcome and at ease with the camera, which added to the warm atmosphere of the evening. After the wedding, several of our guests commented on the Studio's friendly, unobtrusive, and pleasant approach.
3. Integrity – Christopher Todd Studios demonstrated a degree of integrity unmatched in the service industry by fulfilling every promise made. The attention to detail the Studio provides allowed us to focus on other aspects of the wedding, where more of our energy was needed.
Having Christopher Todd Studios in our corner gave us a peace of mind that we almost took for granted during our special day. In our minds, the Studio has risen the bar of what the standard in photography service ought to be. We cannot wait to use the Christopher Todd Studios again."
Read more reviews
YOUR PHOTOGRAPHY BUDGET
When I sit down in my photo studio with engaged couples I often hear the question "Why is wedding photography so expensive?" It happens so often in fact I have written an article about the topic of photography prices.
In my opinion couples should understand our prices up front so they can decide if their budget allows for our expert services. Anyone hiring a professional photographer should first consider how much they value photographs.
ARE PHOTOS IMPORTANT TO ME?
Every couple must ask themselves, how important are my wedding photos to me? I like to use a 10 point scale with couples I meet. Ten being your most treasured possession and 1 being equivalent to your toaster. If your answer is 7 or higher I recommend you look beyond your budget. Set the dollar amount aside for one moment and take a look at the personal value of your future wedding portraits.
A Photo Album is the most popular product from a wedding. The actual value really is not that much when compared to other things most married couples desire like honeymoons, cars, or homes in southern California. However the intrinsic value is very high indeed.
WEDDING ALBUMS ARE TIME MACHINES
Every time you open your wedding album for the next 50 years, you will immediately return to one of the best days of your life. You will also think to yourself I can't believe it went so fast. If that is not enough, just think about what your children will think when they see your pics.
YOUR WEDDING ALBUM PROCESS
One thing most photographers drop the ball on is your wedding album. In fact, I have been guilty of this heinous crime in the past. You have heard stories from your friends that it has been a year since the wedding and still no pictures/ Album?
Designing an amazing wedding album is not easy, and I have spent much time figuring out the best way to not only get the work completed in a timely manner, but get it done with an exceptionally high level of artistry and attention to detail that my clients desire.
This topic of wedding album design is so important to me because it is the underpinning for photographing a wedding, and for this reason I have written a specific article on my process answering most couples questions.
PHOTOGRAPHIC PRINTS ARE REAL FAMILY HEIRLOOMS
Say YES to a printed wedding book because printed pictures are the only historical documents from most weddings. Technology will evolve, "The Cloud" will morph, and the same with a disc, hard drive, or thumb drive. The printed photograph will outlast the all.

Is there really a value you can place on wedding photo? Correct answer is no. Your wedding photos are priceless and they will outlive you. Your children will consider your wedding album a family heirloom.
According to Wikipedia. Value-based pricing in its literal sense implies basing pricing on the product benefits perceived by the customer instead of on the exact cost of developing the product. For example, a painting may be priced as much more than the price of canvas and paints: the price in fact depends on who the painter was. Painting prices also reflect factors such as age, cultural significance, and, most importantly, how much benefit the buyer is deriving. Wikipedia

Get to know Christopher Todd today. If you have any questions please contact Christopher anytime.
MY OC PHOTO PHILOSOPHY
Love is difficult to describe. It is abstract! Love is what great photographers try to define at a wedding. I believe wedding photos should not merely show what happened, but communicate how it felt to be part of the celebration. Your story should be told from an insider's perspective.
I feel: Weddings are full of serendipity. Have a good plan, while going with the flow. The best images are not posed.
I value: Family, Friends, Art, Experiences, in that order.
My goal: To keep my couples "in the moment", while I create wedding photos that tell their story.
My promise: Your day will literally fly bye. Our collection of wedding images will bring you back to the most wonderful celebration of your life. Some shots will make you laugh. Some will make you cry, and all of them will show your personality, connection, and family Love.Trust me there will be no other time when you have so many family and friends under the same roof together. The environment at your wedding will be absolutely electrifying.

WEDDING PHOTOGRAPHY STUDIO
Our photo studio is conveniently located studio at 211 East Columbine Avenue Studio D. Santa Ana, Ca 92707. We are an appointment based studio, so we work around your schedule when planning a visit. We also have a large parking lot outside our studio door with plenty of spaces. The location is near major freeways, 55, 405,5. In the heart of OC neighboring Newport Beach, Tustin, Costa Mesa, Irvine, Laguna Beach.
AFTER THE WEDDING COMES THE FAMILY
In our studio we also photograph families, maternity, children, and newborns. As our wedding clients grow we love to continue to photograph and document their lives, often photographing extended families years after the wedding. Most families electing to work with Christopher Todd Studios choose outdoor locations.
Orange County has some of the most spectacular parks and beaches in Southern California. Huntington Beach, Newport Beach, Laguna Beach, Dana Point, Carlsbad, San Diego, Redondo Beach, Hermosa Beach, Manhattan Beach all have beautiful and unique backdrops some with piers all have beautiful sunsets.

THINGS TO CONSIDER WHEN HIRING A WEDDING PHOTOGRAPHER
Professional: Showing a deep portfolio of past clients.
Liability insurance: most wedding venues require proof of 2 million dollar policy.
Business license: Legitimate professionals should have a license.
Positive energy: A must.
Professional Organizations: Member of Local Chamber of Commerce, or Industry groups
Education: Conferences Attend annually. We know there is always room to learn more, and with technology changing so quickly this is one way we are always up to date with the latest and greatest. Pushing ourselves to constantly improve the craft.
Guidance: Will you be offered guidance, or just handed a disc of images.
Fill Out Our Connect Form To Get Started!
---
Copyright © 2019, Orange County Photographer Christopher TODD studios, 211 E. Columbine Ave, Ste D, Santa Ana, CA 92707, 949-771-9600, Privacy Policy