How to start planning a wedding?
The best place to start wedding planning is by doing research and reading websites like this. As a wedding photographer we are there the whole day from getting hair and make-up to the last dance. This helps us see how the day unfolds and we have seen many weddings to help you plan yours.
The wedding day is fast approaching and it is now time to hatch a plan, so your wedding photos are not merely nice, but incredibly reflect the feeling of your celebration.
Before or pre wedding planning is crucial to wedding day success. We like to help you put together your plan about two-four weeks before the wedding day. Many of these points are interrelated.


Things to consider when planning your wedding photography.
Hair & makeup
One of the most important wedding vendors you will hire on your wedding day. Of course they will have you looking incredible, but also SUPER important and often overlooked is Hair & Makeup will set the pace for the day. When they run late, the time for wedding photography will be shortened. It's always a bummer to lose an hour of time planned for wedding photos to hair and makeup running behind.
Time & Space
Where and when will wedding events happen. Efficiency is key. The wedding will feel like a flash. You're getting ready and five minutes later you're saying goodbye to your guests. It really feels that quick. As a smart wedding photographer I realized we are always in a battle with the clock. Weddings tend to have lots of moving parts and personalities typically contributing to events running behind schedule. It is very smart to incorporate where and when important events will take place at your wedding so the wedding photographer and videographer can be ready to capture all the action.
Time of Day
What's happening outside. More importantly where is the sun? The Greeks defined photography means "drawing with light". Light is everything. We can use flash, too light a bride and groom a 1000 different ways, but that will never beat natural light. Lighting and flash photography is awesome at a wedding, but by nature it's very static, meaning we have to light a specific spot where we will be photographing you. When the goal is to capture personality and connection between a bride and groom, static posing and directing isn't always the best way to make images that speak to you. So definitely figure out when the sun is setting, and consider the light so your wedding photographs are incredible.
TIP: if you're planning a Sunset wedding ceremony you might want to consider a first look.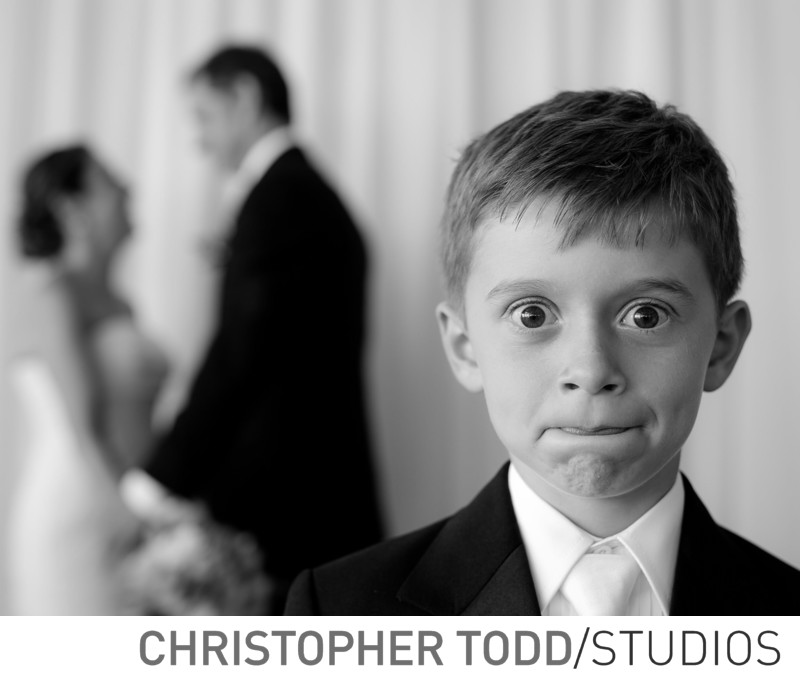 Right People Right Place Right Now
Having the right people in the right place at the right time. The biggest mistake I typically see when the brother of the bride is also a groomsman. He will commonly find himself getting ready and having a drink with the groomsmen in a different location when we need him for the bride's family portraits. Super important to include people in the plan for your wedding shot list.
Who Gets Photographed, Wedding Photo Shot list
A shot list with names of family and friends you would like a portrait with. I suggest you don't "play it by ear", or "go with the flow" Take some time before your wedding to think about and discuss what group portraits are important to you. Having your wedding photo shot list settled before the day of your wedding will keep you in the moment all day, allowing us to capture great candids of you celebrating. Nothing kills an awesome moment like questions.
Flower Delivery
Simple. Let's make sure those personal flowers are delivered to where the bride and groom are getting ready, and let's get them onsite early. Every Bride will appreciate having her wedding bouquet and personal flowers in their pictures. This is an easy pitfall to avoid. Tell your florist or wedding coordinator you don't want all the flowers delivered to the church.
TIP: Hiring a good wedding planner will handle these potential problems before they happen.
Planning Photos In Pinterest
This should be avoided. It is not always realistic. I'll explain. If you have ever looked at Pinterest, you may have become engrossed and looked up at your clock to discover 8 hours had passed. Pinterest is an awesome tool for inspiration and sharing of ideas, especially wedding ideas. It's a great tool for brides to give visual examples of wedding images they LOVE. I like to see brides Pinterest boards to get a feel for their style. Occasionally I am also asked to copy images of a Pinterest board. That's no problem also. However, when I have 10-15 Pinterest images are very disconnected that I'm referring to all day, it will hurt your final wedding photos IMHO. The best wedding images are never posed.
Don't Miss The Moments
Brides and Grooms usually hire us to capture the emotion, and feeling of their wedding day, and to look for the personality and dynamics in the family. If that is the goal, then we as wedding photographers need to have a plan but also have the freedom to flow around and tell your story, and the smaller stories happening at the wedding like chapters of a book. Having a list of Pinterest shots in the back of your head can sometimes be a distraction for the wedding photographer.
Goals
Have a plan! Understanding your destination will make our road easier to travel on your wedding. Let us begin your perfect wedding photography plan with your goal. Then we work backwards customizing a typical wedding shoot to fit your exact needs. This is the time when all the large and small wedding details are settled, so your wedding day will flow seamlessly, allowing you maximum time to be in the moment with family and wedding guests.
Fill Out Our Connect Form To Get Started!
---
Copyright © 2019, Orange County Photographer Christopher TODD studios, 211 E. Columbine Ave, Ste D, Santa Ana, CA 92707, 949-771-9600, Privacy Policy